Project withdrawn after federal funding source issues
June 14, 2013. Source: Andrew Creasey, Herald and News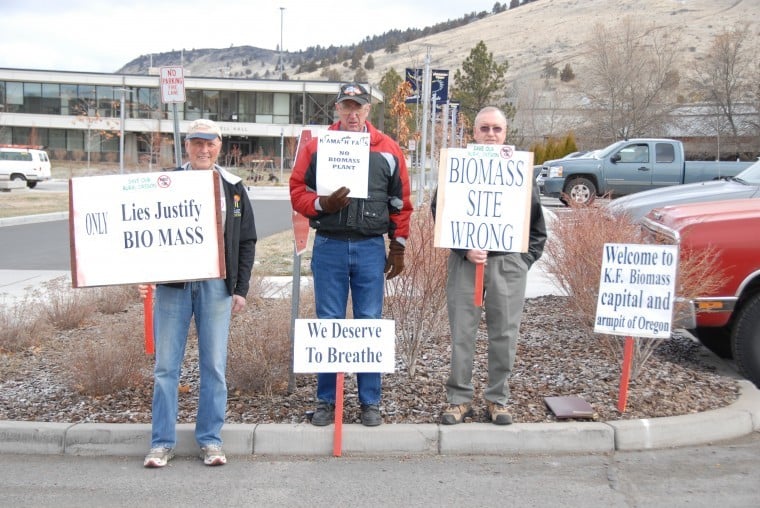 A proposed and controversial biomass plant off Highway 66 will not be built due to complications with its federal funding source.
Klamath Falls Bioenergy withdrew its application for a site certification Tuesday. The certification process had been mired in delays with the Energy Facility Siting Council, the state body that oversees the regulation of large electric generating plants.
In the notice of withdrawal to the siting council, the company mentioned delays in the siting process playing a role in its inability to meet a Dec. 31, 2013 construction deadline required to qualify for federal funding under the American Recovery and Reinvestment Act. Without that funding — amounting to $40 million, or 30 percent of the total project cost — and with Congress' failure to extend the deadline to qualify for the funding past the end of 2013, the company determined it could not finance the project.
The application withdrawal marks the end of a frustrating experience with the Energy Facility Siting Council process for the company. In previous interviews, Klamath Falls Bioenergy Vice President Bruce Thompson was outspoken about his disappointment with the process, saying that if he knew how long it would take, the company would have gone to a different state to construct the plant. Thompson also said the lengthy process was a hindrance for developers looking to build in Oregon.
The company started the application process, which cost about $1 million, in 2009, Thompson said. Thompson could not be reached for further comment.
Proponents of the project pointed to its positive economic impact on Klamath County. Apart from the property tax revenue the $125 million project would generate, it was estimated that it would create 106 permanent local jobs and about 300 temporary construction jobs.
The proposed plant was fiercely opposed by a local group, Save Our Rural Oregon, who contends the plant would have endangered local wildlife, decreased adjacent property values, harmed local groundwater and increased the proliferation of damaging air pollutants in nearby neighborhoods.
SORO's testimony against the project during the Energy FacilitySiting Council contested case proceedings played a role in prolonging that process, but other, larger factors were more likely related to the company's decision to abandon the project, said Trey Senn, who sits on the council and is executive director of the Klamath County Economic Development Association. Senn pointed to a recent California law that stipulates the state's required renewable energy quotient must be generated by plants in the state, effectively eliminating a large market of power for any Klamath County power plant.